DOCUMENT RETRIEVAL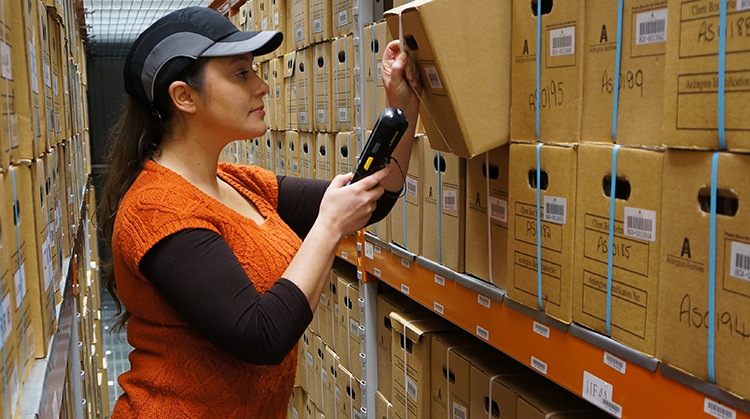 Fast and efficient document retrieval
At Ardington Archives LLP we understand that fast and efficient retrieval of important documents and files is vital for the management of any business. Document retrieval can be requested via phone, email or through our secure online portal service, and if requested by 12 noon, will be returned the next working day, anywhere in the UK. Requested documents are returned either physically or via electronic format, with both options ensuring a secure and confidential delivery. We provide clients with the following document retrieval options:
Digital retrieval
Our digital retrieval service provides a fast, efficient and environmentally friendly means of accessing stored documents and files. Electronic document retrieval is managed via our secure online portal service whereby we upload a scanned PDF of the requested documents or file, which can then be downloaded at a convenient time.
Physical retrieval
For access to multiple files or boxes, our physical document retrieval service can prove a more cost-effective solution. Alongside the next working day delivery service, Ardington Archives LLP can also offer urgent document retrieval in emergency situations. For any box that has been physically retrieved, we will collect it for return to store, free of charge.
Key benefits:
Both electronic and physical retrieval methods offer efficient and confidential access to the documents and files held in our store, allowing clients to release valuable office space for more business-critical roles.
Efficient access to the files you need

Boxes returned to you the next working day

Electronic files can be uploaded to our secure online document storage service
Process
Confidentiality and the sensitive nature of the documents in our care is something we take very seriously at Ardington Archives LLP.  As such both digital and physical document retrieval will only be actioned if the request has come from a pre-authorised signatory specified on an account.  Retrieval will be delivered next working day, if ordered before 12 noon.  However urgent retrieval terms are available and we are happy to facilitate bespoke arrangements around specific requirements such as company audits.