Archive storage boxes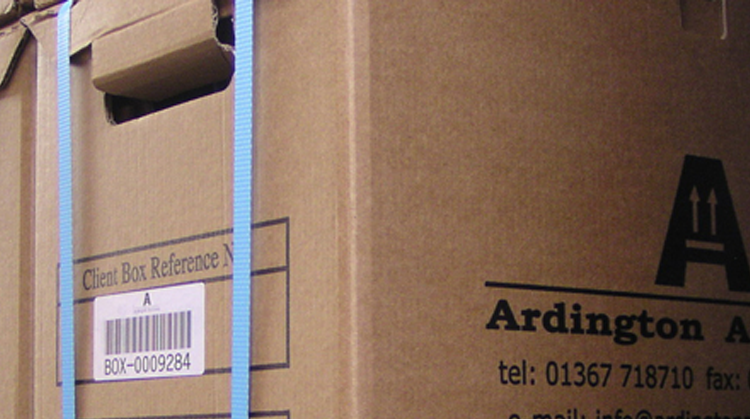 Bespoke designed archive storage boxes
Ardington Archives LLP has a range of custom designed storage boxes made from high content recycled board.  Designed with a double thickness skin to ensure strength, rigidity and a longer life than most other storage boxes, all Ardington Archives LLP boxes are PH neutral to maintain the quality and integrity of the documents stored inside, meeting PD5454 standards.  All boxes are supplied flatpacked for ease of storage and transportation.
DOCbox
The DOCbox is specially designed to store documents more densely than standard boxes by using section dividers to store individual sheets or sheets in folders. This eliminates the need to store ring binders or hard backed file folders which waste space and add weight, allowing the ring binders to be reused. The Docbox can store more information per kilogram and per cubic metre, lowering overall storage costs.
External measurements: 390mm x 290mm x 260mm
Strong double thickness skin on all sides for long life and heavy loads
Easy assembly with integral lid and four section dividers for storing documents
Our most robust box for high density storage
FILEbox
The FILEbox is our original storage box with open space to house ring binders or lever arch files.  The FILEbox5 is specially designed to fit three standard lever arch files perfectly, and has an integral lid to avoid overfilling.
External measurements: 390mm x 245mm x 310mm
Strong double thickness board on all sides for long life and heavy loads
Easy assembly with integral lid
Conveniently stores lever arch files and ring binders
PLANbox
The PLANbox is a long rectangular box that is ideal for storing plans, blueprints and other oversized drawings that need to remain rolled-up in storage.
External measurements: 980mm x 90mm x 90mm
Suitable up to A1 size plans, drawings, posters and maps
Square-shaped for stable stacking and storage