Premium security vaults compliant with BS 4971 standards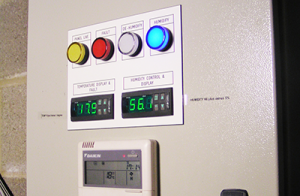 Secure vaults for total peace of mind
Ardington Archives LLPs secure vaults are built to BS4971 standards, offering an additional level of security, four-hour fire resistance, an internal argonite fire suppression system, and are temperature and humidity controlled.  This means that they are ideally suited to the long term storage of sensitive and business critical documents such as:
Lab books
Clinical trial and research data
Blueprints
Back-up computer discs
Legal documents
Key benefits:
Humidity, temperature and light can all contribute to the deterioration of archive materials. Our secure vaults control and monitor these factors to ensure optimum conditions for long term storage, protecting the quality and integrity of the housed documents.
Full climatic control

Fire suppression system

Four-hour fire resistance

Added security
Process
Only Ardington Archives LLP's own boxes, or those previously approved for use, are stored in the secure vaults. Our bespoke designed archive storage boxes have a neutral PH value and help sustain the internal conditions of this delicate environment. All archived boxes are clearly labelled to show the archiving environment in which they should be kept, which ensures that while on our premises they will be kept only in the correct environment.
Secure archive environments