Confidential destruction of documents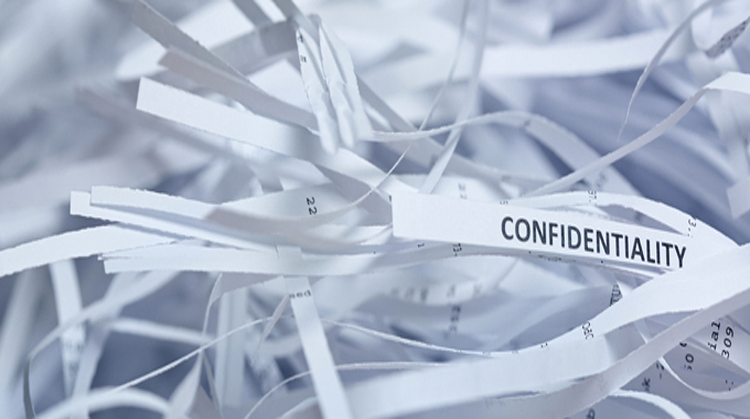 Shredding and confidential destruction of sensitive material
As part of our document storage service, we work with clients to determine destruction dates for archived documents and files.  Confidential destruction is carried out by twice shredding the documents, before it is pulped and recycled into toilet tissue.  We also offer destruction of associated media such as PC hard drives, meeting BSI standards in both Environmental and Information Management.
Ardington Archives LLP also offer confidential destruction as a stand alone service.  Although law requires that businesses retain certain documents for a period of time, any document that is no longer required should be securely destroyed.  Anyone transporting documents to a destruction point on a company's behalf should be security vetted and a registered waste carrier. From discreet collection of office waste in unmarked vehicles, to the secure shredding and destruction of documents, Ardington Archives LLP can manage all aspects of this process.
Key benefits
Ardington Archives LLPs confidential destruction process is not only environmentally friendly but allows clients to meet their requirements as a business in relation to control of information for data privacy laws.
Discreet collection

Secure shredding and media destruction

Meet data protection regulations
Process
When boxes are deposited into store, we work with the client to assign a future review date whereby we will notify the client to check on the destruction requirement of that box and its contents.  A quarterly report is sent to each client advising which boxes are due for destruction, and the client can then decide whether to send the boxes for confidential destruction or to continue to house them in secure storage.  On receipt of instruction to destroy, signed by an authorised destruction signatory previously assigned by the client, we arrange for the boxes to be confidentially destroyed through an environmentally friendly shredding and recycling process.  Once completed, a certificate of destruction will be issued, confirming the contents have been destroyed.
Secure media destruction
Ardington Archives LLP provide a secure destruction service for electronic media such as computer hard drives, USB storage and CD / DVD Rom.  As this type of media often holds confidential information, deleting files and directories may not actually fully remove the data, therefore it requires confidential destruction to comply with the Data Protection Act.  All destroyed media is warranted in compliance with appropriate standards, and disposed of in compliance with the Waste, Electrical and Electronic Equipment (WEEE) directive, ultimately being shredded to ensure your data has been permanently destroyed.